Welcome to the 2024 Playa Events Registration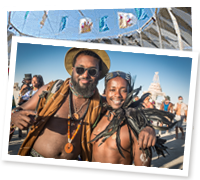 Submit
2023 Playa Events submission is closed. You can add or edit existing events at the Playa Info kiosks. A select number of events are in the WhatWhereWhen guide available at Greeters Station. All submissions are available on this website and at Playa Info during the event, plus are available to third party applications (go to innovate.burningman.org for details). Subscribe to Jackrabbit Speaks to keep apprised of upcoming dates.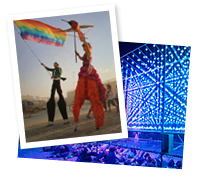 Browse
No events for Burning Man 2024: None
About Playa Events
Playa Events are offered to participants and curated by the theme camps.
Submit your events here for the 2023 BRC Event.
Browse the events to find your favorites.
---
Where do approved Playa Events appear?
WhatWhereWhen printed guide available at Greeters, which contains a subset of the events submitted here.
Innovate community built applications -- developers can request an API key for mobile or web application development.
Playa Events website (here)
Playa Info directory during the BRC event. Add a password when creating your event so you can edit it on playa at Playa Info.
---
Key Dates - Be Ready!
6/22 Playa Events opens for submissions
6/29 Latest submission date to have the opportunity to get into the printed WhatWhereWhen guide
8/11 Playa Events submissions close